Page 2 of 2 •

1, 2

A Lomita chef who killed his wife and cooked her body in his restaurant's kitchen fired his attorney Tuesday, delaying his sentencing to prison.
David Viens, 49, who was convicted of second-degree murder in September for killing his 39-year-old wife, Dawn, was set to receive a sentence of 15 years in prison in a downtown Los Angeles courtroom. Dawn Viens has not been seen since Oct. 18, 2009. Her remains were never found.
Superior Court Judge Rand Rubin granted David Viens' request during a brief hearing. Viens' attorney, Fred McCurry, quickly left the courtroom after Viens smiled at him and shook his hand.
"Thank you, Fred," Veins said.
Why Viens fired McCurry was not disclosed. It should make no difference for his mandated sentence, but Viens can argue himself for the verdict to be dismissed, something that virtually never happens at the end of a trial.
During his trial in September, Viens' facial expressions often displayed displeasure at his attorney's work and questioning of witnesses. When McCurry rested his case, Viens stood from his wheelchair and announced, "Your honor, I object!"
Although prosecutors - armed with two recorded Viens' confessions - argued the killing was premeditated and sought a first-degree murder conviction, McCurry argued that jurors should return a conviction on a lesser charge of second-degree murder or manslaughter.
Jurors chose second-degree murder after just five hours of deliberation. A first-degree conviction would have brought a sentence of 25 years to life.
After his wife disappeared, Viens told her friends and the Daily Breeze that she had simply left him. But after months without a trace of her, sheriff's detectives opened a homicide case. On Feb. 23, 2011, Viens jumped from a Rancho Palos Verdes cliff after a Daily Breeze article reported that detectives considered him a "person of interest" and believed his wife was dead after finding blood in the house they once shared.
At the same time, Viens' daughter, Jacqueline, told detectives that her father had admitted to killing his wife, though accidentally, by placing duct tape over her mouth because she was keeping him from sleeping. He awakened to find she had vomited and was dead.
Viens survived the fall and remains in a wheelchair. He wore a back brace in court Tuesday.
While hospitalized, Viens confessed twice to detectives, once telling the same story he told his daughter and later saying he placed his wife's body in a large pot and cooked her over four days, dumping her remains in his restaurant's grease trap.
Dawn Viens' sister, Dayna Papin, and father, Michael Papin, who lives in Florida, appeared in court Tuesday with plans to speak at the sentencing. Dayna Papin said she expected the postponement.
"My dad came all this way and was not able to experience the feeling of justice," Dayna Papin said.
During a break in the court proceedings, Michael Papin spoke with David Viens' mother, Sandra Viens. Michael Papin said later that they had dated in junior high school and it was a coincidence that their children later married. He had not seen her in 50 years.
He said he had no animosity toward her.
"We just talked about old times," he said.
David Viens asked for a continuance.
After a few courtroom appearances to receive trial transcripts and file motions, Viens is set to be sentenced on Feb. 1.
[You must be registered and logged in to see this link.]

raine1953

Administration





Join date

: 2010-01-21



LOS ANGELES - A chef who told police he cooked his wife's body for four days in boiling water was sentenced 15 years to life in prison for the murder.
David Viens was sentenced Friday at a hearing in a Los Angeles courtroom.
The 49-year-old Viens was convicted of murder in September of the killing of his 39-year-old wife, Dawn Viens, in late 2009. Her body has never been found.
In a recorded interrogation from a hospital bed presented by prosecutors during the trial, Viens can be heard saying he cooked her body for four days to get rid of evidence. Authorities said he leapt off an 80-foot cliff after learning he was a suspect in her disappearance.
[You must be registered and logged in to see this link.]
Video at link of Viens addressing the court

raine1953

Administration





Join date

: 2010-01-21



A chef was sentenced to 15 years to life in prison Friday for his wife's murder after telling the judge he was innocent in the bizarre case.
"I didn't cook my wife," David Viens, 49, insisted at his sentencing in Los Angeles Superior Court.
The chef was convicted in September of second-degree murder in the 2009 death of Dawn Viens, whose body was never found.
Viens told the court he has no recollection of giving a hospital-bedside statement to investigators that he cooked her body in boiling water for four days to get rid of evidence. A recording of the interrogation was played during the trial.
"I loved my wife," said Viens, who uses a wheelchair after suffering injuries from jumping off a cliff when he learned he was a suspect.
He added, "I never meant what happened to happen."
Viens gave varying accounts of how his wife died, according to witnesses at the trial – from admitting that he accidentally killed her to claiming his wife walked away and never returned.
He spoke for a half-hour at his sentencing, protesting that he deserved a retrial because his defense attorney did not present enough evidence and should have allowed him to testify. The judge denied the retrial request.
[You must be registered and logged in to see this link.]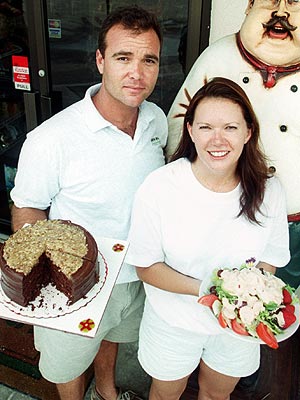 raine1953

Administration





Join date

: 2010-01-21



Page 2 of 2 •

1, 2

---
Permissions in this forum:
You
cannot
reply to topics in this forum