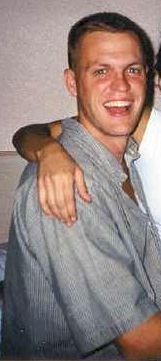 Daniel William Hiers, Jr. seemed to be a good cop, a faithful public servant for the city of Charleston, South Carolina. But, he betrayed his badge in the worst way, using it to gain the trust of a single mother with a young daughter, then allegedly molesting the 10-year-old child over a period of months.
On November 24, 2004, Hiers, 32, was arrested by the North Charleston Police Department for committing lewd acts on a child under the age of 16 and was released on bond. He was promptly suspended from the police force.
The Dorchester County, SC Sheriff's Department subsequently filed additional charges against Hiers for first-degree criminal sexual conduct with a minor. Hiers was scheduled to surrender on those charges on March 15, 2005, but failed to meet his lawyer at the sheriff's department. When Hiers' mother looked for him at his house, he was nowhere to be found. What was found in Hiers' bedroom was the body of his 24-year-old wife, Ludimila, killed with a gunshot to the head. Neighbors observed Hiers leaving the house several hours before the gruesome discovery was made. On March 31, 2005, the Goose Creek, SC Police Department obtained an arrest warrant for Hiers, alleging that he murdered his wife.
Despite an intensive manhunt, South Carolina authorities have been unable to locate Hiers, and requested the assistance of "Operation Intercept", a U.S. Marshals-led fugitive task force. The U.S. Marshals Service has obtained a federal warrant for Hiers for unlawful flight to avoid prosecution.
Hiers is described as a white male, age 32, 6'03", 210 pounds with blues eyes and blond hair. He has eleven years of police experience, is trained in the martial arts, and maintains a high level of fitness. He is believed to be armed with a .40 caliber Glock pistol and may possess a bullet-resistant vest. The U.S. Marshals Service is offering a reward for information directly leading to Hiers' arrest. Daniel William Hiers JR. was born on December 2, 1972. He is a white male, weighing approximately 210 lbs, and has blonde hair and blue eyes. Hiers has 11 years of police experience. He is an experienced hunter and was raised in South Carolina. He was last seen on March 15, 2005, driving a red 2005 Chevy Aveo. The vehicle was found in Laredo, Texas on June 20, 2005. We can put the vehicle at that spot as far back as April 10, 2005.
The U.S. Marshals Service is offering a reward for information directly leading to Hiers' arrest.
http://www.usmarshals.gov/investigations/most_wanted/index.html

Guest

Guest





This proves looks mean nothing, he looks like an all American guy, the kind you would be proud to bring home to introduce to your family.... He is sick...looks familiar for some reason.

CritterFan1




Join date

: 2009-06-01



---
Permissions in this forum:
You
cannot
reply to topics in this forum