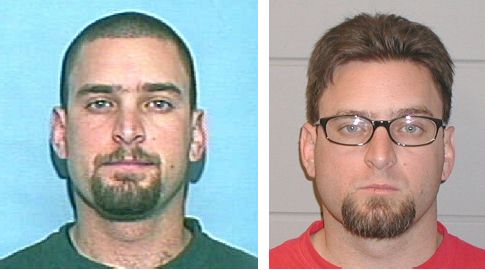 STOCKBROKER-TURNED-HELLS ANGEL ADDED TO U.S. MARSHALS
"15 MOST WANTED" FUGITIVE LIST
Washington, DC - Paul Merle Eischeid -- the newest addition to the U.S. Marshals famed "15 Most Wanted" fugitives list -- is sought in connection with the brutal murder of a Phoenix, AZ, woman. The former Charles Schwab stockbroker who joined the Hells Angels Motorcycle Club also is sought by federal authorities for fleeing indictments on Racketeer Influenced and Corrupt Organization (RICO) charges, and Violent Crime in Aid of Racketeering.
The Maricopa County Attorney's Office in Arizona, asked the U.S. Marshals to assist in apprehending Eischeid, 35, for questioning in the murder of Cynthia Garcia. "Paul Eischeid is on the U.S. Marshals '15 Most Wanted' fugitives list for two reasons," said U.S. Marshal Service Director John F. Clark. "First, the murder-and-mauling charge he faces is one of the most grisly in recent American criminal history. Second, Eischeid threatens an extraordinarily wide range of Americans. He's a former stockbroker who appears studious, clean cut, and personable, but he's a member of the Hells Angels gang. He is widely traveled and poses a violent risk to anyone with whom he comes in contact."
In 2003, Eischeid was arrested after being indicted by the U.S. Attorney's Office for RICO and Violent Crime in Aid of Racketeering -- including counts of kidnapping and murder. Several additional Hells Angels members also were indicted. Due to Eischeid's career as a stockbroker and his relatively clean criminal record, he was released on his personal recognizance and placed on federal pretrial release with electronic monitoring.
During their investigation, agents of the Bureau of Alcohol, Tobacco, Firearms and Explosives (ATF) learned Eischeid allegedly was involved in Garcia's murder. Eischeid, however, had removed the monitoring device and later fled Arizona. U.S. Marshal David Gonzales stated that, "Eischeid is believed to be aided by fellow Hells Angels members, and could be in any of 22 countries worldwide that have club chapters." Eischeid reportedly has been sighted in numerous states and countries. Recently, he was seen in Calgary, Canada. An arrest warrant was issued by Canadian Immigration Services for illegal entry.
"ATF is working hand-in-hand with the Marshals Service to bring Paul Eischeid to justice," said Acting ATF Director Michael J. Sullivan. "He's a dangerous and violent criminal who needs to be apprehended."
Eischeid is a white male, 5' 7" tall, with blue eyes and brown hair. His last name is tattooed on his stomach, and numerous full-color tattoos cover his arms, chest and back. He weighs 190 pounds and may wear glasses. The U.S. Marshals Service is offering a $25,000 reward for information leading to his capture. Persons with information about his whereabouts are asked to contact the U.S. Marshals at 1-800-336-0102; those with information may remain anonymous. Updates and additional information can be obtained at
www.USMarshals.gov;
Bureau of Alcohol, Tobacco, Firearms and Explosives at
www.ATF.gov
; and "America's Most Wanted" at
www.AMW.com.http://www.usmarshals.gov/investigations/most_wanted/index.html

Guest

Guest





---
Permissions in this forum:
You
cannot
reply to topics in this forum