April 24, 2013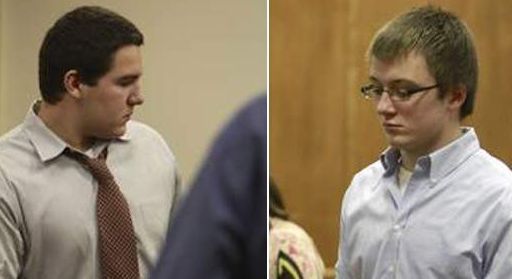 Anthony Zarro (Left) Christopher Allen
SPRINGFIELD, Mo. — Two teenagers who escaped from a juvenile rehabilitation camp will be tried as adults in the fatal beating and stabbing of an elderly Michigan couple in a botched robbery at a vacation cabin in southwest Missouri, a judge said Tuesday.
Anthony Zarro, 17, and Christopher Allen, 16, are charged with two counts of first-degree murder, three counts of armed criminal action, one count of felony robbery and one count of felony burglary in the January killing of Margaret and Paul Brian Brooks, aged 69 and 70.
Circuit Court Judge Alan Blankenship ruled Tuesday that Zarro, of Spring, Texas, and Allen, of Nashville, Tenn., will be tried as adults, The Springfield News-Leader reported.
The Brooks, of Baldwin, Mich., were staying in a relative's cabin close to Table Rock Lake near Lampe, 50 miles south of Springfield, on Jan. 31 when a neighbor stumbled across a gruesome scene, according to court documents.

The neighbor saw the blood-spattered teenagers loading items from the cabin into the Brooks' car and held them at gunpoint until the police arrived
, the document said. Deputies who arrived at the scene asked the young men if anyone else was in the home.
"Anthony stated to deputies that two other people were inside, and stated `I killed them, I beat them with a baseball bat and stabbed them,"' according to the probable cause statement. A wooden bed post with what appeared to have blood on it was also found at the scene and is believed to be one of the murder weapons, the statement said.
The teenagers were carrying identification and credit cards belonging to Paul and Margaret Brooks.
Just two days earlier, the boys had run away from the Lives Under Construction Boys Ranch, 9 miles southwest of Lampe.
Blankenship wrote that because of the violent nature of the killings, the age of the suspects, the lack of a facility that could guarantee the juveniles' confinement, "it is apparent that there are no reasonable prospects for rehabilitation."
Rebecca Abeln, who is listed as the assistant public defender representing Zarro, declined comment Wednesday. Online court records did not list a lawyer for Allen and the public defender's office says Allen has not applied for their services.
Zarro and Allen are scheduled to make their first criminal court appearance Friday.
[You must be registered and logged in to see this link.]
_________________
along comes a spider to sit down beside ya
Be Humble For You Are Made Of Earth~Be Noble For You Are Made Of Stars


NiteSpinR

Tech Support Admin





Join date

: 2009-05-30



OMG what those boys did is horrible!!!

raine1953

Administration





Join date

: 2010-01-21



February 11, 2013
Paul and Margaret Brooks spent their childrearing years making sure their three sons enjoyed a warm, close-knit upbringing in Richmond. Mrs. Brooks was an active volunteer with the local school district while her husband coached Little League.
It makes the harsh reality of the couples' untimely and tragic deaths last week in Missouri, allegedly at the hands of two teenage boys, even more horrific. In the habit of spending their winter months at their son's lake home in Lampe, Paul Brooks, 70, and Margaret, 69, were murdered Jan. 31. The prime suspects are two youths who had gone missing from a nearby youth camp, Lives for Boys Under Construction.
Stone County Sheriff Doug Rader's office reported that deputies were dispatched to a residence at 5:43 p.m. on Jan. 31 for a burglary in progress. Working with the Missouri Highway Patrol the investigation revealed the homicide of the Brooks. A neighbor of the Brooks observed the two suspects behaving suspiciously outside their home and called law enforcement while holding them at gunpoint until officers arrived.
The sheriff reports a 16-year-old male and a 15-year-old male were taken into custody, turned over to juvenile authorities and that they remain in custody. Following autopsies on Feb. 1, the sheriff reported that the probable cause of death was from stabbing and that blunt force trauma was also a factor.
On Friday, Feb. 8, television station KY3 in Springfield, Mo., reported a search warrant in the case had been released and that the older suspect admitted to committing the murders. It states the confession occurred while authorities were taking a blood sample from the suspect and he said, "Why are you doing that, I already told you I killed them?"
KY3 also reported the search warrant states the couple was attacked in the kitchen of the home then taken to a bedroom. Authorities say they found prescription drugs belonging to the Brooks' on the teen suspects, as well as one of the victim's identification.
When contacted Monday, Feb. 11, the sheriff's office said they didn't release the search warrant documents and could not comment on them due to the case being open. Rader said officials are working to have the two juveniles certified as adult defendants, and then the case will proceed through the adult court system. He could not confirm the incident occurred during a robbery at the Lampe residence.
"The call was for a burglary but we are not sure at all of the motive, there was nothing there to steal," Rader said. "That's the really bad part about it, there was no motive."
Charactering the area as a "resort community made up of lake houses and some resort homes" Rader said such acts are rare.
Jodi Bastian, of Richmond, is the sister of Michelle Raska Brooks, who is married to Patrick Brooks and shares his profound grief at the senseless loss of their parents.
Bastian said the elder Brooks' lived in Richmond for more than 30 years, raising three sons at a home along Division Road. All three boys, Mike, Jeff and Pat, graduated from Richmond High School and went on to earn their pre-med undergraduate degrees at Grand Valley State University. Each went to medical school; and today Mike is an emergency medicine physician in Colorado Springs, Jeff is an oral and maxillofacial surgeon in Grand Rapids, and Pat is a colon and rectal surgeon in Springfield, Mo.
Born in Canada, the Brooks were proud to attain their U.S. citizenship in their later years. Mrs. Brooks, a homemaker, has worked at both the IGA and Kmart in Richmond. Her husband was a tool and die maker in the auto industry and, following his retirement, the couple moved from Richmond to Baldwin in west Michigan.
The Brooks are survived by their three sons, three daughters-in-law, nine grandchildren and many friends from Michigan to Missouri.
The couple was cremated and a memorial service will be held in July, in lieu of a planned 50th wedding anniversary celebration.
[You must be registered and logged in to see this link.]
Last edited by NiteSpinR on Thu Apr 25, 2013 3:26 am; edited 1 time in total
_________________
along comes a spider to sit down beside ya
Be Humble For You Are Made Of Earth~Be Noble For You Are Made Of Stars


NiteSpinR

Tech Support Admin





Join date

: 2009-05-30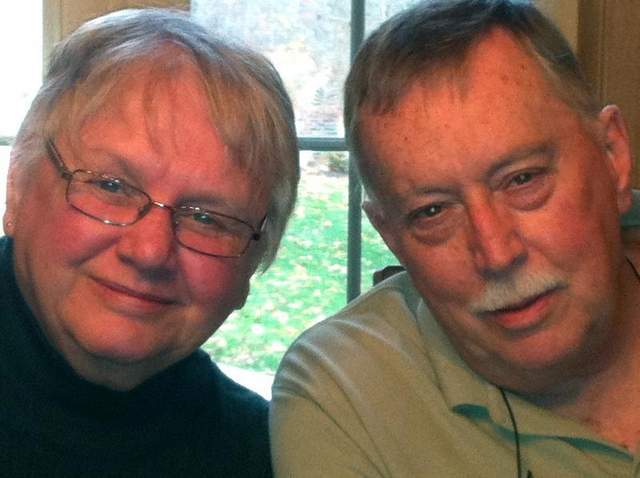 _________________
along comes a spider to sit down beside ya
Be Humble For You Are Made Of Earth~Be Noble For You Are Made Of Stars


NiteSpinR

Tech Support Admin





Join date

: 2009-05-30



July 17, 2013
GALENA —
A change of venue was granted and a trial date has been set for one suspect in a double murder case from January.

The jury trial for Anthony Zarro, 17, of Spring Texas, was scheduled during a hearing Tuesday, according to Missouri court records. The trial is set to take place June 23, 2014 in Newton County.
Zarro is charged with a handful of felony charges for the alleged murder of Paul and Margaret Brooks on Jan. 31.
Christopher Allen, 16, of Nashville, Tenn., is also charged for the Brooks' deaths.
Judge Alan Blankenship ruled the two would stand trial as adults in April.
Zarro and Allen ran away from Lives Under Construction Boys Ranch in late January, according to police documents. Police were called to the a home on Trace Hollow Road when a neighbor was concerned the Brooks' home was being burglarized.
When police arrived, they found the Brooks' bodies inside, police documents state.
"The investigation of the Brooks' residence revealed Paul and Margaret were killed in the kitchen, then their bodies were moved to a bedroom and attempts were made to clean the blood and remove any evidence of what happened," police documents read. "Preliminary autopsy reports indicate both Paul and Margaret died from stab wounds and both sustained injuries from blunt force trauma."
Zarro and Allen are facing identical charges of two counts of first-degree murder, a class A felony; three counts of armed criminal action, an unclassified felony; first-degree robbery, a class A felony; and first-degree burglary, a class B felony, according to Missouri court records.
Allen was arraigned in circuit court on July 1 and is scheduled to appear in court Aug. 6, according to Missouri court record.
Zarro is to be held in Stone County until his trial begins.
Both suspect's bonds are set at $2 million cash or surety.
[You must be registered and logged in to see this link.]
_________________
along comes a spider to sit down beside ya
Be Humble For You Are Made Of Earth~Be Noble For You Are Made Of Stars


NiteSpinR

Tech Support Admin





Join date

: 2009-05-30



---
Permissions in this forum:
You
cannot
reply to topics in this forum