May 13, 2013
ELLICOTT CITY, Md. (WJZ) — There are shocking new details in the case of a
14-year-old girl accused of convincing her 19-year-old boyfriend to murder her father.
Derek Valcourt has more on the stunning story that her boyfriend told the investigators.
Not only did he confess to stabbing his girlfriend's father, he apparently told police all about their plans to do it.
Bail was denied for 19-year-old Jason Bulmer and 14-year-old Morgan Arnold, the young couple charged with planning and then carrying out the murder of the girl's father,
58-year-old real estate executive turned popular Howard County blogger and activist, Dennis Lane.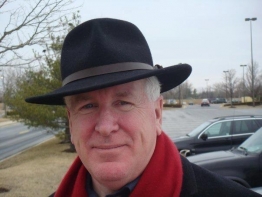 Morgan Arnold's mother refused to speak to reporters after Monday's court hearing but according to charging documents, Bulmer had plenty to say to police, confessing to the first officers who arrived at the murder scene. "I'm the one who did it; she told me to."
Bulmer later told detectives his girlfriend left a sliding glass door to their house unlocked so he could sneak in and stab her father to death with a kitchen knife he'd taken from his own home. He said she told him to stab her father in the throat 10 times while he slept, and to stab his girlfriend, Denise Geiger, in the throat 15 times.
Detectives asked why and Bulmer said Arnold told him, "I have my reasons and I'll tell you later."
According to court documents, Bulmer and his girlfriend discussed killing her father on the afternoon before the murder while they were at Mt. Hebron High School. He said she told him, "If you don't do it tonight, I don't know what I'll do."
It's unclear how Dennis Lane's girlfriend escaped any injury and called police.
Now those who loved Lane wonder why his daughter wanted him murdered, but they're remembering him for his generosity and selfless commitment to Howard County.
"I think the best thing we can do for him is to be there for his family, to help them heal and recover and to show them that the community loves him," said Bill Woodcock.
Police say after the murder, the two teens intended to run off together to California.
Both teens face the possibility of life in prison for the murder and for conspiracy to commit murder.
[You must be registered and logged in to see this link.]
[You must be registered and logged in to see this link.]
_________________
along comes a spider to sit down beside ya
Be Humble For You Are Made Of Earth~Be Noble For You Are Made Of Stars


NiteSpinR

Tech Support Admin





Join date

: 2009-05-30



May 13, 2013
Plot also allegedly targeted father's fiancee, who was able to escape and call Police.
The 19-year-old man charged with fatally stabbing Dennis Lane allegedly told investigators that his girlfriend had instructed him to kill her father and his fiancee, specifying the number of times each was to be stabbed in the throat — 10 for him and 15 for her.
In a conversation at school hours before the Ellicott City blogger and businessman was killed, Jason Anthony Bulmer said, 14-year-old Morgan Lane Arnold told him "I don't know what I'll do if you don't do it tonight," according to charging documents released Monday.
Bulmer sent her a picture of a kitchen carving knife before he entered through a sliding glass door that she had left unlocked, police said. "Arnold gave a reply that indicated to Bulmer that this knife was satisfactory," Det. Donald Guevara wrote in the court papers.
The documents offer the first indication that Denise Geiger also was targeted in the attack early Friday on Lane, which shocked local residents and those who knew Lane and his daughter. Arnold and Bulmer are both charged with murder, and made their first court appearances Monday. Both will continue to be held without bail.
According to court records, Arnold had a rationale for killing Lane and Geiger. "I have my reasons and I'll tell you later," she allegedly told Bulmer, who relayed the conversation to investigators asking about the difference between the number of times each victim was to be stabbed. Afterward, Arnold promised the pair would run away to California, Bulmer allegedly told police.
But Geiger survived, and the charges don't indicate she was harmed. She called police from the Ellicott City home she owned with Lane and reported her fiancee was struggling with Bulmer. By the time police arrived, according to the documents, Lane was dead in one upstairs room, Bulmer and Arnold were in another, and Bulmer's hands and clothes were bloodied.
The charging documents refer to a string of communications between the two students in the days and hours before the killing of Lane, a prominent community member in Howard County.
Police said Bulmer gave them an account of the plot after he was arrested and waived his right to remain silent. Even before being transported to police headquarters, Bulmer told police at the home that he had killed Lane and that Arnold had told him to do it, according to the documents.
Bulmer also told police the plot had been unfolding for months, but "communications concerning the murder became more frequent within the past several weeks," the detective wrote.
In one of the more chilling allegations in the documents, police said Arnold told Bulmer there weren't any sharp knives at her home.
The two Mount Hebron High School students appeared separately in court Monday via video link from the Howard County Detention Center.
Arnold will remain in custody after her public defender waived her right for a bail review hearing. She appeared in a yellow jumpsuit and spoke little. Asked her name by the judge, she replied, "Morgan." Her face reddened as the hearing went on, her arms shackled and folded in front of her.
Arnold's mother, Cindi Arnold, was in the front row of the courtroom but declined to speak to reporters. A public defender assigned to Morgan Arnold's case could not be reached.
In a previous statement, Cindi Arnold described her daughter as a "special-needs child." Arnold is scheduled to have a preliminary hearing in the case May 24.
Bulmer, who appeared in a sleeveless blue smock that revealed a large tattoo on his right biceps, was denied bail by District Judge Mary Reese. A prosecutor described him as a danger to the community, himself and witnesses in the case.
Bulmer's public defender described him as a sophomore in high school who lives with his mother and has few financial resources. His attorney also said he had moved to Maryland four years ago.
Gary Bulmer, Jason's father, who lives in Plymouth, Mich., and is divorced from the teenager's mother, described his son in an interview as a gentle young man who had trouble with schoolwork but with whom he has a good relationship.
"He's a good kid, but he's slow in school and can't finish high school," said the father. "He gets along fine with other kids."
Gary Bulmer said he hasn't met Arnold but heard about her from his son and had concerns about the age gap between the two teenagers.
"He tells me he likes her, wants to be with her," the father said.
Gary Bulmer said it has been about two years since he has seen his son and that he and his now ex-wife split about six years ago. He said he didn't understand how his son could get involved in such an incident.
Other relatives of Jason Bulmer couldn't be reached to comment.
Geiger did not return a request for comment Monday. She had called police sometime after 4 a.m. Friday. Once there, police arrested Bulmer and put Arnold in "investigative detention" as they sorted out what had happened. Arnold was arrested a short time later.
[You must be registered and logged in to see this link.]
_________________
along comes a spider to sit down beside ya
Be Humble For You Are Made Of Earth~Be Noble For You Are Made Of Stars


NiteSpinR

Tech Support Admin





Join date

: 2009-05-30



---
Permissions in this forum:
You
cannot
reply to topics in this forum