Police in California are asking for help locating a 15-year-old Antelope Valley girl who has been missing since Sunday night.
Her family fears she may have run off with a man she met online.

Distraught grandfather Bill Guild told The Huffington Post that his granddaughter, Ashley Marie Lewin, was last seen over Memorial Day weekend.
"We had a great weekend, and she came in to say goodnight to us about 10 p.m. Sunday. She said, 'Goodnight grandpa and grandma I love you.' We got up the next morning and she wasn't here," Guild said.
According to Guild, his granddaughter lives in his Littlerock residence. Lewin's mother, and her mother's boyfriend, live in a guesthouse on the property.
Guild said it's possible that Lewin met an unknown male on the Internet and left to meet up with him.
"She had been emailing and texting older people, and had been getting inappropriate messages from older guys," he said. "Because of that, her mom took away her cell phone and her kindle, but we've since discovered that she was making calls on our home phone to people in several other states.
Lewin's grandparents reported her missing to the Los Angeles County Sheriff's Department's Palmdale station. They also posted flyers, spoke with the teen's friends and called some of the numbers they found on their phone bill.
While most of the people they have spoken with have been cooperative, there was a gentleman in northern California who denied any knowledge of Lewin."I called him yesterday and he said he had never heard of Ashley. I said, 'That's interesting, because you talked to her for 2 hours and 40 minutes on one particular occasion.' He hung up on me, so we're making sure the police are looking into that one," Guild said.
The worried grandfather added, "One of the big things we have warned Ashley about is predators. The kids don't know who they're talking to [online] but they think they know everything."
Lewin's family is also concerned that she might be headed for Las Vegas, Nev., where her biological father resides. She has never met him before and has previously expressed a desire to find him, Guild said.
Authorities are aware of both possibilities in the teen's disappearance and have yet to rule anything out.
According to Guild, it is out of character for his granddaughter to run away. She just finished up her freshman year at Littlerock High School, and is "very smart," he said.
Ashley Marie Lewin is described as white, 5-feet-6-inches tall and 180 pounds, with light brown hair and brown eyes.
Anyone with information is asked to call the Palmdale sheriff's station at 661-272-2400.
As they wait for good news, Lewin's family said they love her and just want her back safe.
"It's very sad. The longer the wait, the harder it is. We hope and pray that, wherever she is, she is safe, unharmed," Guild said.
[You must be registered and logged in to see this link.]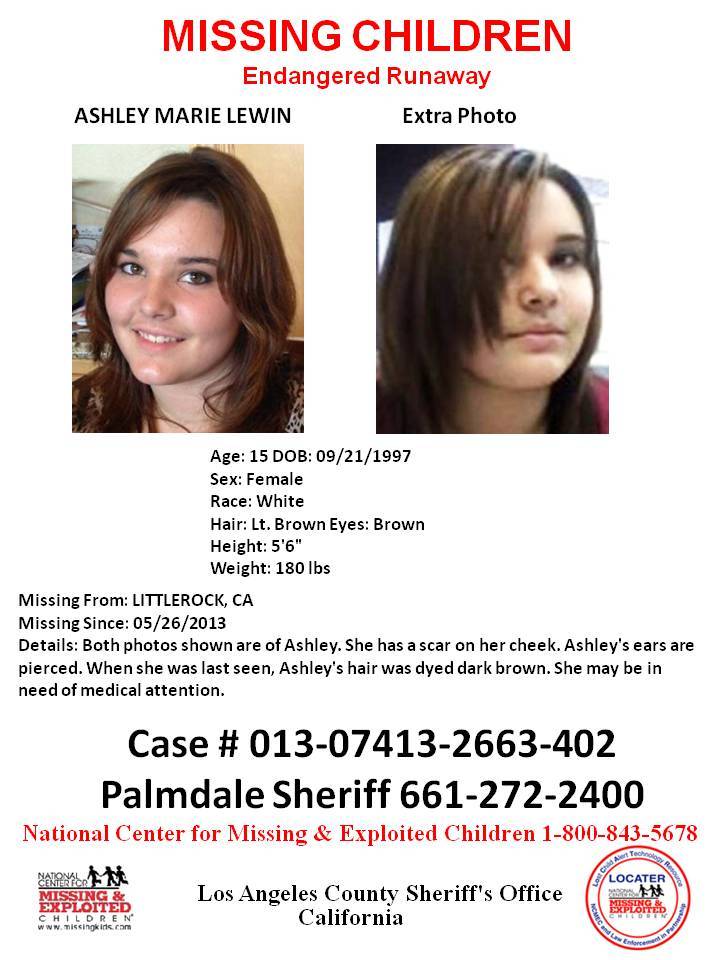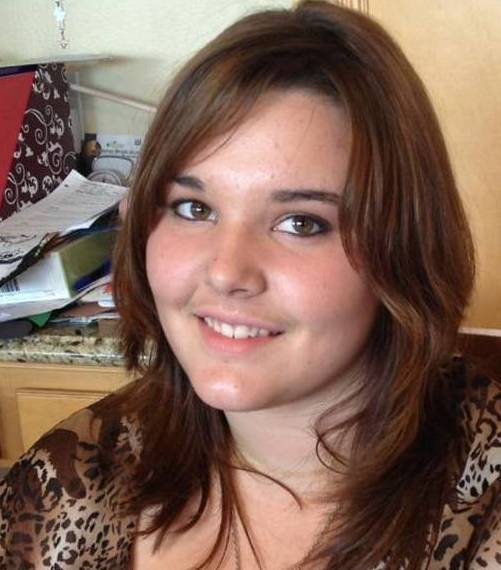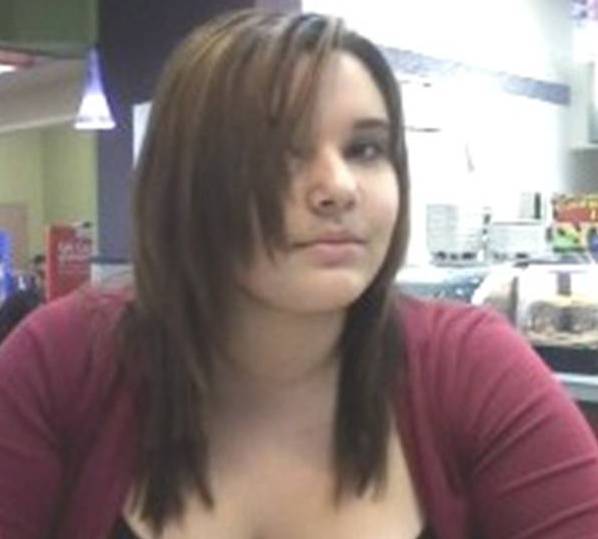 raine1953

Administration





Join date

: 2010-01-21



May 28, 2013, 1:08 p.m.
The family of Antelope Valley teen Ashley Marie Lewin, last seen over the Memorial Day weekend, pleaded for the public's help Tuesday in finding the girl and safely returning her home.
Bill Guild said he feared that his great-granddaughter, who is 15 and was last seen Sunday night at the family's Littlerock residence, had left to meet an older male she first contacted through the Internet.
The family contacted the Los Angeles County Sheriff's Department's Palmdale station, which has opened an investigation.
Palmdale deputies are currently treating Ashley as a runway, but said they could classify her case as a "critical missing" if she does not turn up soon.
The Littlerock High School freshman is believed to have left home after making a telephone call at 4 a.m. Monday, Guild said. He said he and his wife said good night to the teen around 10:30 p.m. Sunday.
According to Guild, Ashley had Internet contact with a male in Kentucky, who has been questioned by deputies and denied meeting her in person. In all, Ashley had been messaging with several people, who also were to be contacted by deputies.
The family sent Lewin's pictures to media via Facebook and Twitter.
"Sure hope she is OK," the post said. "The deputy says that kids usually come back, but we have a horrible sense of what might happen.
Keep her in your prayers. And run her picture in the paper."
Anyone with information is asked to call the Palmdale sheriff's station at (661) 272-2400.
[You must be registered and logged in to see this link.]

raine1953

Administration





Join date

: 2010-01-21



The Palmdale Sheriff's Office is handling this all wrong!!!!! I cannot believe that in this day and age they would not even think that a girl in this situation would be a runaway and *could* update it to critical missing if she doesn't show up? OMG I think I am going to call them!
Palmdale is a desert community, has some good neighborhoods and some very bad ones too, infested with gangs. I had no knowledge or opinion of that Sheriff's Dept until I read this!

raine1953

Administration





Join date

: 2010-01-21



Parents are responsible for their children (in most states) until they are 18. If a child under that age goes missing, whether through abduction or on their own accord (runaway) LE should treat the fact that they are missing all the same no matter the cause.
Predators use Social Media Sites as fields to hunt our children. LE should start taking that into consideration, instead of labeling a child of a certain age group as a runaway.
Too many children are disappearing and turning up dead or victims of human trafficking. Authorities need to adjust their techniques now that the internet is predominate in the lives of most teenagers these days. IMO!
_________________
along comes a spider to sit down beside ya
Be Humble For You Are Made Of Earth~Be Noble For You Are Made Of Stars


NiteSpinR

Tech Support Admin





Join date

: 2009-05-30



---
Permissions in this forum:
You
cannot
reply to topics in this forum