NiteSpinR

Tech Support Admin





Join date

: 2009-05-30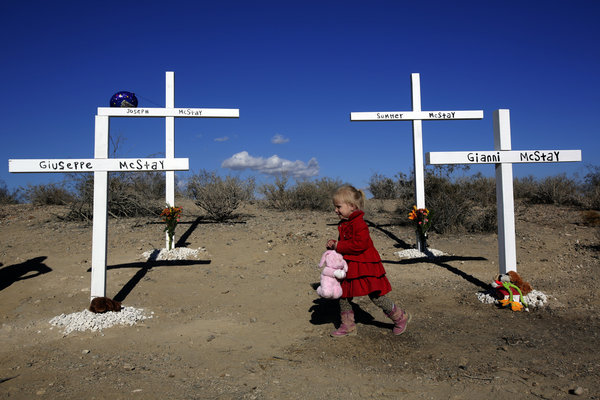 Friends and family of the McStay family, whose remains were found buried in shallow graves in the desert near Victorville, have set up crosses memorializing them.

NiteSpinR

Tech Support Admin





Join date

: 2009-05-30



Jan. 4, 2014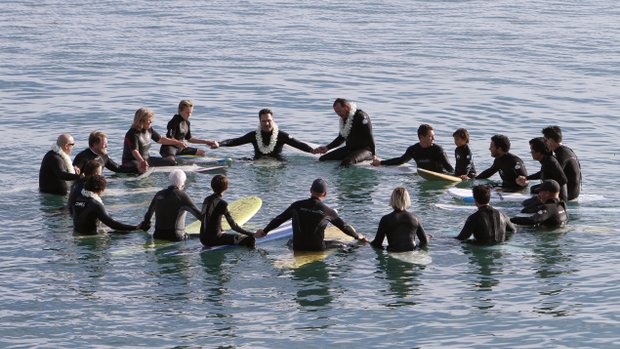 Mike McStay, center back, who is the brother of Joseph McStay, sits on his board sideways as he and friends and family members do a memorial paddle out for Joseph McStay, his wife Summer, and their children Gianni, 4, and Joey Jr., 3, whose remains were found in the desert near Victorville last November, while next to the San Clemente Pier
ORANGE COUNTY — Four surfers, wearing wet suits and white leis, waded into glistening water just south of the San Clemente pier Saturday afternoon.
Well more than a dozen surfers followed. On the pier above, dozens of mourners watched.
The leis represented the four slain members of the McStay family. Three years and 11 months to the day since they were last heard from, friends and family offered a final goodbye for the Fallbrook foursome, whose disappearance and deaths remain shrouded in mystery.
The paddle-out — at the same spot Joseph McStay had surfed for years — followed a church memorial service in Laguna Niguel for McStay, 40, wife Summer, 43, and their sons Gianni, 4, and Joey Jr., 3.
The family went missing February 2010. Their remains were found Nov. 11 in two shallow desert graves in San Bernardino County.
Authorities have not released their causes of death, and investigators have remained mostly mum since a Nov. 15 news conference announcing the grim discovery. No suspects have been named.
The McStays had roots in Orange County, and had moved to Fallbrook from San Clemente less than three months before they disappeared.
About 200 people, many clutching tissues and sharing hugs, turned out for the memorial at Vineyard Community Church to share remembrances of the family. Some spoke of Joseph and Summer's adoration for each other and their children.
"There was so much love in there today," said Susan Blake, Joseph's mother, as she left the church service.
"I need justice," she said. "I waited almost four years and never gave up."
Joseph's brother, Mike McStay, said the service honored the family's memory.
"My spirits are lifted," he said. "I feel encouraged remembering all the goodness in their lives. It allows me to turn a page."
The family's whereabouts had been a mystery that grabbed national attention.
They were last heard from on Feb. 4, 2010. Four days later — before anyone knew they were missing — their Isuzu Trooper was towed as an abandoned vehicle from a San Ysidro parking lot near the U.S.-Mexico border crossing.
The San Diego County Sheriff's Department handled the matter as a missing persons case for more than three years before transferring it to the FBI in San Diego in April. In announcing the decision to hand off the case, officials said it appeared the family had voluntarily gone to Mexico.
Then on Nov. 11, a motorcyclist riding in the desert north of Victorville spotted bones. Excavation revealed the two shallow gravesites — about 105 miles from the family's Fallbrook home.
With the discovery of the remains, the matter became a homicide case. The San Bernardino County Sheriff's Department is in charge of the investigation.
On Friday, a San Bernardino sheriff's spokeswoman said investigators continue to go over interviews, reports and evidence collected in the case.
Outside of the church, Joseph's mother said she had held out hope the family would be found alive.
"That chapter of hope is gone," Blake said. "I need to start a new chapter of justice."
http://www.utsandiego.com/news/2014/Jan/04/mcstay-service-memorial-fallbrook-paddle/

NiteSpinR

Tech Support Admin





Join date

: 2009-05-30



Such a Beautiful family!!!

Will we EVER know who did this to them?
Hope they keep investigating until they find whoever did this to the McStay's.
---
Permissions in this forum:
You
cannot
reply to topics in this forum