Jul 03, 2015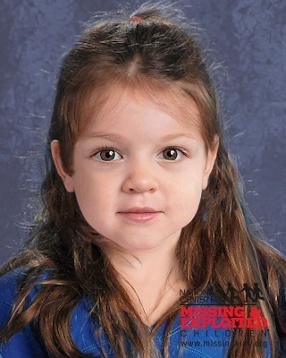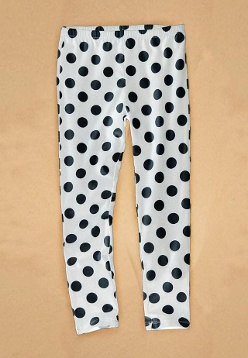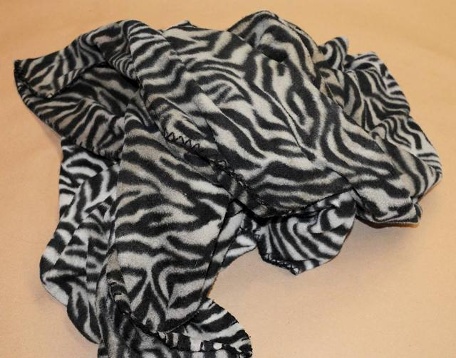 BOSTON —Tips are pouring in to Massachusetts State Police in an attempt to help them identify a little girl found dead in a trash bag on Deer Island in Boston last week.
Officials released sketches of the girl on Thursday, and more than 5 million people viewed the images on the Massachusetts State Police Facebook page within hours.  Over 2 million people have viewed the sketch on WCVB's Facebook page.
Responding to many tips that came in, State police said Friday they were confident the missing girl is not Aliayah Lunsford, who disappeared in September 2011 from her home in West Virginia.  Lunsford was 3 years old at the time of her disappearance.
The girl, investigators said, showed no obvious signs of trauma, and was wearing leggings and was wrapped in a blanket.
A woman walking her dog on the island discovered the body on June 25. It appears the girl's body had been there for a short period of time, Suffolk County District Attorney Daniel Conley said.
Investigators released a sketch of what they believe the child looked like Thursday.
"She is a beautiful young child who deserves dignity," Conley said.
Investigators continue to review reports of missing children and have notified police across the country.
Investigators said she was about 4 years old with brown eyes and brown hair that was about 14 inches long. They said the girl was about 3 1/2 feet tall and weighed just over 30 pounds, which was normal for her height.
She was most likely Caucasian or Hispanic, Conley said.
Conley said the girl was wearing white leggings with black polka dots, size 4T, that were manufactured by Circo, a brand sold at Target. She was wrapped in a black-and-white zebra-print fleece blanket believed to be manufactured by Cannon, a brand carried at Kmart.
The cause of death has not been determined.
The mystery has been heartbreaking for workers at a treatment plant on Deer Island. They said they are now planning to place a bench in her memory, plant a tree and would help pay for funeral costs if needed.
State police said they have received a steady stream of tips and calls about who the girl may be, and are urging the public to keep calling with any information regarding the girl's identity.
Some people, including MWRA workers, have offered to help pay for burial expenses, Conley said.
[You must be registered and logged in to see this link.]
Last edited by NiteSpinR on Fri Sep 18, 2015 8:38 pm; edited 4 times in total
_________________
along comes a spider to sit down beside ya
Be Humble For You Are Made Of Earth~Be Noble For You Are Made Of Stars


NiteSpinR

Tech Support Admin





Join date

: 2009-05-30



September 2, 2015

BOSTON -- Massachusetts investigators have received the results of another round of scientific testing that may help them identify the young girl whose remains were found in a trash bag by an island in Boston Harbor.

The search for the identity of the little girl, otherwise known as "Baby Doe," has been ongoing since her body was found on June 25. Investigators have tested her DNA, as well as posted compute generated images on social media, billboards and television -- to no avail.

Massachusetts State Police say that the latest tests compare residual oxygen isotopes in human hair and teeth with known levels in drinking water and could help them pinpoint where the girl lived.

Preliminary results suggest the child may have spent time in New England but also other locations across the U.S.

In a statement to CBS Boston, State Police say that scientists have also "not yet compared the biological evidence with drinking water samples in other countries." As a result, investigators are not able to definitively draw any specific conclusions.

Last month, investigators tested pollen samples from the clothing the child was found in. Experts believe that the pollen was from trees specific to the greater Boston area, Jake Wark, a spokesman for Suffolk County District Attorney Dan Conley, told 48 Hours' Crimesider.

Officials say the girl was found inside a trash bag with a Zebra print blanket, wearing polka dot leggings, close to the shoreline of Deer Island.

The child was estimated to be 4 years old with brown eyes and brown hair, weighed around 30 pounds and stood about 3-and-a-half feet tall, according to CBS Boston.

State and local police have reportedly received about 150 unique leads to her identity, but none has led to an identification.

Anyone with information can text the word GIRL and their tip to 67283 or call police at 617-396-5655.
Last edited by NiteSpinR on Fri Sep 18, 2015 8:37 pm; edited 1 time in total
_________________
along comes a spider to sit down beside ya
Be Humble For You Are Made Of Earth~Be Noble For You Are Made Of Stars


NiteSpinR

Tech Support Admin





Join date

: 2009-05-30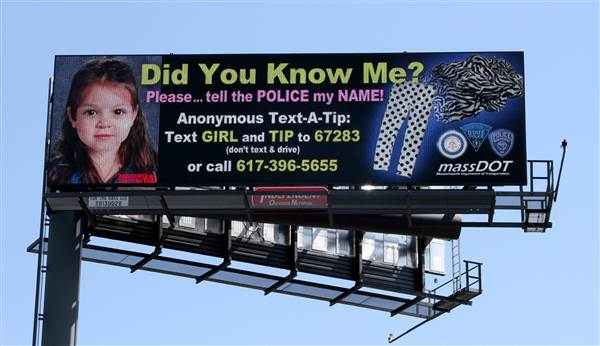 _________________
along comes a spider to sit down beside ya
Be Humble For You Are Made Of Earth~Be Noble For You Are Made Of Stars


NiteSpinR

Tech Support Admin





Join date

: 2009-05-30



September 18, 2015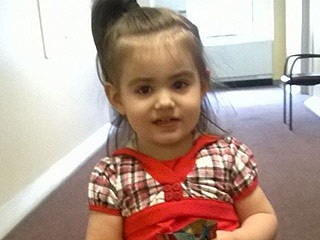 BOSTON - Prosecutors have charged a man with the murder of "Baby Doe," the mystery child whose innocent face sparked millions of followers on social media as Massachusetts police desperately hunted for clues about her identity.
The child is identified as Bella Bond, whose family had occasionally been the subject of neglect complaints before the girl was found dead in a trash bag on a Boston Harbor island this summer, authorities said.
"At just shy of three years old, Bella Bond was a true innocent," Suffolk District Attorney Daniel Conley said at a Friday news conference announcing the charges. "This child, whose very name means beauty, was murdered."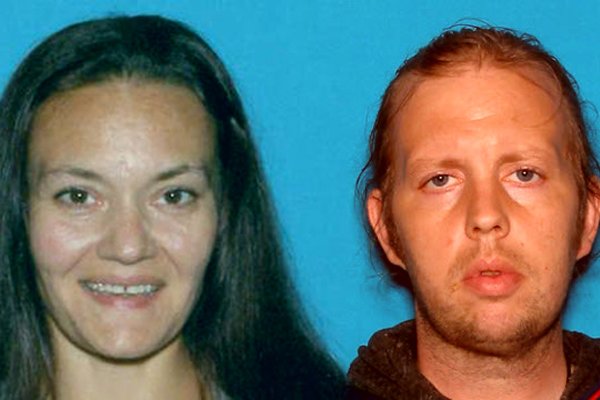 Michael McCarthy, 35, the boyfriend of Bella's mother Rachelle Bond, is charged with murder. He is currently being treated at a Boston hospital for drug issues. Rachelle Bond, 40, is under arrest on a charge of accessory to murder after the fact.
The child's pleasant, cherubic face - created by a composite sketch artist before her identity was known - has been plastered on social media and has drawn nearly 50 million clicks on Facebook alone.
Conley declined to elaborate on the tip that lead to Bella's identification, but commended the use of social media in helping investigators finally put a name to Baby Doe.
"We could have never knocked on 50 million doors, but did the equivalent of just that with the use of social media," he said.
The Massachusetts House speaker says the mother and her boyfriend are blaming each other for the girl's death.
The girl was 2 1/2 years old when she died. Her body was found June 25 inside a trash bag on Deer Island in Winthrop by a woman walking a dog.
"I don't have confirmation but there seems to be a tremendously strong sense" that it is Bella, Massachusetts Gov. Charlie Baker said at a press conference. He said the state Department of Children and Families had a case open -- and closed -- on Bella in 2013.
Massachusetts House Speaker Robert DeLeo, D-Winthrop, said he has been briefed on the investigation and that the police are confident in determining how she died.
"They feel they have the perpetrators of this crime," DeLeo said during a news conference.
"It appears as though it was a situation of the boyfriend who was involved and apparently, I think, mother and boyfriend sort of blaming each other in terms of who harmed the child."
Bella's body was found by a woman walking her dog on June 25 in Winthrop, Mass., on Deer Island. The peninsula juts out into Boston Harbor and is home to a waste water treatment plant and walking trails.
The little girl was found stuffed into a trash bag with a zebra-print blanket and wearing polka-dot leggings.
Authorities posted to social media a photograph-like image generated by the National Center for Missing and Exploited Children created from autopsy photographs.
Officials from the state's child protection agency said they had contact with Bella twice, for four months in 2012 and three months in 2013. In both cases, officials described the involvement as "support for neglect," and the cases were later closed.
Between 2001 and 2006, the Department of Children and Families terminated parental rights for two of her mother's older children. One of the children was later adopted by her maternal grandmother; the other was adopted by someone outside the family, DCF officials said.
Rhonda Mann, a spokeswoman for the Executive Office of Health and Human Services, said the agency has been working with law enforcement for several months in an effort to help police identify the girl.
"Now that we know her name, the story is no less tragic. DCF has not had an open case with this family for over two years, but did have brief involvement with Baby Bella as an infant," she said in a statement.
Because the case involving Bella had been closed, it was not among cases that DCF examined after the discovery of the remains on Deer Island, the agency said.
[You must be registered and logged in to see this link.]
_________________
along comes a spider to sit down beside ya
Be Humble For You Are Made Of Earth~Be Noble For You Are Made Of Stars


NiteSpinR

Tech Support Admin





Join date

: 2009-05-30



Sep 18, 2015
McCarthy, who is hospitalized for a medical condition, is accused of causing Bella's death intentionally and he and Bond are accused of keeping her death a secret to avoid prosecution, authorities said.
Both are scheduled to be arraigned Monday.
McCarthy's relationship to Bella is not clear, authorities said. The identity of Bella's father was not released and he was not accused of wrongdoing.
Bella Bond was about 2 1/2 years old when she died
, authorities said. She lived in Dorchester, Massachusetts, a Boston neighborhood about 14 miles from Deer Island where her body was found.
Massachusetts State Police executed a search warrant Thursday night or Friday morning at an address connected to Bond. Boston Police said today they received a tip that led authorities to a house in Dorchester, Massachusetts.
At one point, the child was involved with the Department of Children and Families (DCF), Gov. Charlie Baker said, noting that he believed the case opened and closed in 2013. The DCF has not been involved in this case since, he said.
"DCF has not had an open case with this family for over two years, but did have brief involvement with Baby Bella as an infant," DCF spokeswoman Rhonda Mann said in a statement. "Our thoughts are with Bella's extended family as the investigation into her death continues."
Baker said he believes the girl's mother has other, much older children.
"We're trying to put all these pieces together," Massachusetts State Police spokesman Dave Procopio told ABC News earlier this month. "Trying to get a picture of her life ... and by learning about how she lived, hopefully we'll be able to focus our efforts to identify her on specific areas, and learn the circumstances of how she died."
Jake Wark, a spokesman for Suffolk County District Attorney Dan Conley, told ABC News this summer that, "At the heart of this investigation is determining the identity of an innocent child and giving her the dignity of a burial under her true name."
Full Story and Pictures at link
[You must be registered and logged in to see this link.]
_________________
along comes a spider to sit down beside ya
Be Humble For You Are Made Of Earth~Be Noble For You Are Made Of Stars


NiteSpinR

Tech Support Admin





Join date

: 2009-05-30



09/24/2015Bella Bond, the little girl who was found dead inside a plastic bag in June, will be buried in Winthrop, Massachusetts, with her great-grandmother, her biological father said.
Joseph Amoroso, 32, never met Bella, but he told The Boston Globe on Tuesday that she will be laid to rest in his family's plot.
"I have a family plot, and that's where she'll be buried," Amoroso said. "Right next to her great-grandmother."
Amoroso also told NECN: "It only feels right to have Bella buried with her family."
A spokesman for the Town of Winthrop confirms to PEOPLE that Bella is expected to be buried there, but could not say when. Her body is still being held at the Massachusetts State Medical Examiner's office.
Bella was found dead on June 25 on Deer Island in Winthrop. For months, authorities struggled to identify the little girl known only as "Baby Doe" before a break in the case came last Wednesday.
Amoroso has said that he believes it was fate Bella was found on Deer Island that day. "Bella's body was washed up on Deer Island on June 25, which is my grandmother's birthday," he told NECN. "Winthrop is where the Amoroso family grew up, it is where we were all raised. Bella made it home to her family."
Bella's mother's boyfriend, Michael McCarthy, 35, has been charged with murdering her, while her mother, Rachelle Bond, 40, has been charged with accessory to murder after the fact. Both pleaded not guilty at their arraignment on Monday.
On Wednesday, police executed a search warrant at the home where Bella was allegedly killed
, PEOPLE confirms,
removing the mattress she slept on and the refrigerator where her body was allegedly stored for a long period of time following the murder.
It's believed that Bella may have been killed while being put to bed. Assistant District Attorney David Deakin alleged Monday that one night in late May, at around 11:30 p.m., Bella was unwilling to go to sleep and became "unruly." McCarthy told Bond not to worry about it, that he would calm her down.
When Bella's screams eventually stopped, Bond went to check on her daughter. Deakin said that Bond entered the room to find McCarthy standing over Bella with her hand near her abdomen, and when she looked at Bella, her head appeared to be swollen and her face was gray.
"She knew at that moment that her daughter was dead," Deakin said.
McCarthy was allegedly unconcerned that he'd killed the toddler. "She was a demon anyway, it was her time to die," he purportedly told Bond.
Bond is now in custody detoxing from heroin, while McCarthy is on suicide watch, a high-ranking Suffolk County Sheriff's Department official told PEOPLE.
They are due back in court on Oct. 20.
[You must be registered and logged in to see this link.]
_________________
along comes a spider to sit down beside ya
Be Humble For You Are Made Of Earth~Be Noble For You Are Made Of Stars


NiteSpinR

Tech Support Admin





Join date

: 2009-05-30



OCTOBER 03, 2015
Rachelle Bond was 36 years old and homeless, a drug addict and a prostitute, when she stood before a judge in 2012, desperate to stay out of prison.
Hauled into a Boston courthouse that day, Bond had violated every condition of her probation, including an order that she attend a drug rehabilitation program.
But Bond was also three months pregnant, carrying a baby she hoped would be her salvation. Sending Bond back to rehab instead of to prison, her lawyer argued, might be best for both of them.
"Ms. Bond is carrying a child who is voiceless in this particular matter," the lawyer said.
Born after Bond's release from prison, Bella Bond would spend the entirety of her short life voiceless. Her middle name, Nevaeh, was "heaven" backwards, and only after she was gone — only after her unidentified body was discovered in a trash bag on the Deer Island shore — did the world begin to hear her.
For man accused in Bella's death, a long descent. Driven by drugs and haunted by demons nobody else could see, Michael McCarthy's life traced a steep arc toward darkness.
Before her gruesome death, Bella Bond lived at the center of a chaotic swirl of adults who all failed her, according to Globe interviews with people whose troubled lives intersected with her own. Her mother's fragile stability was shaken by the same addiction that had cost her permanent custody of two older children, they said. Even so, state social workers closed child neglect complaints involving Bella relatively quickly, betting on Bond's capacity to turn her life around.
And, several friends and acquaintances who saw Bond during the summer say her actions in the wake of her daughter's death belie the claim that she was held captive by the strange, addled man accused of murdering her feisty 2-year-old at bedtime.
'Sometimes things can go wrong in a family very quickly.'
Both Bond's boyfriend, Michael McCarthy, 35, who is charged with murder in Bella's death, and Bond, now 40, who is charged with being an accessory after the fact, have pleaded not guilty. Months after they allegedly dumped the child's body in the harbor, prosecutors say, Bond finally told a friend that Baby Doe, the unidentified little girl on the billboards, was Bella, the beautiful, headstrong toddler who liked Hello Kitty and dressing up like a princess.
"Recovery can be very precarious," said Linda Wood-Boyle, executive director of Project Hope, a social service agency in Boston that works with homeless families. "Sometimes things can go wrong in a family very quickly."
Bella was conceived in a tent at Occupy Boston, according to her biological father, Joseph Amoroso. But soon after the judge sentenced Bond to jail time that day in 2012, Amoroso was gone.
A Florida native with an extensive criminal record both there and in Boston, he disappeared down South, occasionally posting photos of Bella on his Facebook page and talking to the child on the phone, but never getting involved in the girl's life, according to several friends of Bond. He declined to comment for this story.
Bella was born healthy on Aug. 6, 2012, at Boston Medical Center, and for many months, the newborn and mother lived at a homeless shelter affiliated with The Dimock Center in Roxbury, according to several close friends of Bond.
Bond's defense lawyer, Janice Bassil, said Bella's mother endured significant "trauma and abuse" throughout her childhood and adult life, but wanted to put that behind her. She was committed to staying clean, Bassil said, and to finding a permanent home for herself and her baby. She received food stamps and monthly federal disability checks for her psychological problems, including post-traumatic stress disorder, her lawyer said.
Others who had known Bond as a longtime addict and prostitute saw a change after Bella's birth.
"She did everything she needed to do," said Toni Katsikas, 29, a homeless woman in Roxbury who was a close friend of Bond. "She wanted to do the right thing."
Still, there were signs of strain. In the first year of Bella's life, the state's child protection agency twice received complaints that Bond was neglecting Bella. While social workers found enough evidence both times to open a case, they closed each within a few months.
Officials with the state Department of Children and Families have declined to say who called in the complaints or give any details about their findings, including whether its caseworkers in Boston looked up Bond's history in Worcester County and learned that the state had terminated her parental rights to her two older children between 2001 and 2006.
But Bond kept Bella. Around the child's first birthday, with the help of a Section 8 housing voucher, they moved into a two-bedroom apartment in a newly renovated building on Maxwell Street in Dorchester.
At the well-kept apartment building, Bond excitedly decorated Bella's bedroom with stuffed animals and new furniture, said Megan Fewtrell, a close friend at the time. Bond hung purple curtains across the window in the tidy room. She gave the bedroom a monkey theme: They were Bella's favorite animal.
"Everything was for Bella," Fewtrell said. "Her future was getting a life for Bella."
Fewtrell said she saw Bella regularly, sometimes baby-sitting for the first year-and-a-half of her life, and said Bella's personality was like her mother's, spirited and energetic.
"She wasn't a timid, shy baby," said Fewtrell.
But Fewtrell, like many who grew close to Bond, was banished after a falling out in the spring of 2014. Soon after, Bond turned to another longtime friend, Shannon Taylor, and asked her to move in.
"The three of us were a family," said Taylor, a 42-year-old homeless woman who spends many nights curled up on sidewalks and in doorways near Copley Square.
When Taylor first moved in, her alcoholism was so bad that she would keep a bottle of liquor by her side at all times to ward off shaking and seizures. But Bella was always climbing into her lap, reaching for the alcohol, so Taylor quit drinking, she said.
Bond, she said, was on a low dose of Suboxone, a drug that curbs drug cravings and withdrawal symptoms. The two women smoked marijuana constantly, she said, but did no hard drugs. Bond was not working, said Taylor, but she was not hooking either. She had not been arrested while Bella was alive.
The Maxwell Street apartment was filled with toys — balls, stuffed animals, coloring books, picture books — and Bond and Taylor settled into a routine.
Bella would wake early, and Taylor, careful not to rouse Bond, would pluck the girl from her bed, change her diaper, and dress her in slippers and a pink corduroy bathrobe with a monkey face on the back. Bella would watch "SpongeBob SquarePants"; Taylor would cook her eggs or oatmeal. Bella zoomed around the apartment on a toy car, and she and Taylor would color or read together. When Bond arose, the women would take the girl to the park or go grocery shopping.
Bella was ebullient and curious, and Bond was easily irritated. She yelled at the child often. But Taylor's devotion to both Bella and Bond proved a stabilizing force, and Taylor said the women mostly stayed inside and played with the girl. They could not afford to visit the aquarium, Taylor said, but once they took Bella to Hempfest, Boston's annual marijuana rally. They took vitamins, read prayer books, and blessed every meal.
But about a year ago, just before Halloween, Taylor said, Bond got angry with her and Taylor was no longer welcome. She said she called periodically, hoping to repair the breach. When she called this April, Taylor said, Bond answered. "You got the wrong number," Bond told her, before hanging up.
In January, Bond met McCarthy, according to friends — a strange, dirty man, those who knew him at the time said, with a raging drug problem and a fascination with demonology, conspiracy theories, and crystals with mystical powers.
He later told a former girlfriend that he did not particularly like Bond, but that she reminded him of a "modern Native American medicine woman" — a sign from his dead mother, he said, who loved Native American culture.
Taylor heard that McCarthy was a heroin addict and assumed that Bond was also using. Fellow patients at the South End methadone clinic where Bond went to get dosed began seeing her selling pills, her frame increasingly gaunt. Her Facebook page, once populated with pictures of Bella, went silent. Her neighbors said they watched a parade of wretched men file in and out of her first-floor apartment, and they often heard screaming matches.
Bella's crying could be heard frequently through the walls of the apartment, the neighbors said.
Prosecutors say she was sometimes locked in a closet.
In May, prosecutors say, McCarthy became convinced that Bella was a demon. When she wouldn't go to bed one night, McCarthy allegedly went in to calm her down. Instead, they say, he killed her.
McCarthy and Bond allegedly shoved her body into their refrigerator, then dumped her into the harbor. They kept the secret of her death — and her identity — for nearly three months.
Bond told investigators that after Bella's death McCarthy kept her a virtual prisoner in her home, dosing her with heroin he shot directly into her neck. She claimed she was only able to free herself when McCarthy was hospitalized for treatment of abscesses on his arms from shooting up.
But many who knew Bond, and described her as an aggressive woman who spent years on the streets and fighting to protect herself, are skeptical.
During the summer, McCarthy called his former girlfriend, a recovering heroin addict, asking about crystals he had left with her. The former girlfriend, who spoke on condition of anonymity, said McCarthy and Bond came to visit her at her Quincy apartment.
When they met, Bond was calling McCarthy "hon" and touching him on the leg. Neither she nor McCarthy mentioned Bella. The former girlfriend said she never knew Bond had a daughter.
They drove to a beach and McCarthy performed a Reiki healing ceremony on his former girlfriend, she said.
Bond stayed in the car with the former girlfriend's sister; for a full 20 minutes, Bond was away from McCarthy and close to help. But instead of fleeing, she complained good-naturedly about how she had to placate McCarthy with lies when he accused her of stealing his pills. When McCarthy and the former girlfriend got back in the car, Bond seemed fine.
Soon after, the former girlfriend and her sister visited McCarthy and Bond at the Maxwell Street apartment. They talked about drugs, and someone pointed out the thick swarm of track marks on McCarthy's arms.
Bond told the former girlfriend that her own arm veins were unusable. "The only place I can shoot up is in my neck," Bond said, the former girlfriend recalled.
One exchange haunts the former girlfriend. Her sister, she said, asked for a drink.
"We have bottled water," Bond volunteered. She opened the refrigerator where authorities say Bella's body had been kept, and handed over a bottle. The girlfriend and her sister drank it together.
It was July. Bella had been dead for more than a month.
"That will never get out of my mind," said the former girlfriend, weeping as she recalled how casually Bond moved through the space where her daughter died violently and alone. The apartment was clean, the girlfriend recalled. There was no toddler furniture, no baby toys, no robes with monkeys on them.
This was no place for children.
[You must be registered and logged in to see this link.]
Conceived in a tent by a homeless drug addicted mother, such a sad life poor Bella lived. A true victim of circumstance, she never stood a chance at having a normal life.
_________________
along comes a spider to sit down beside ya
Be Humble For You Are Made Of Earth~Be Noble For You Are Made Of Stars


NiteSpinR

Tech Support Admin





Join date

: 2009-05-30



---
Permissions in this forum:
You
cannot
reply to topics in this forum